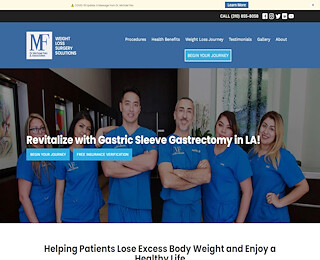 Dr. Michael Feiz at Weight Loss Surgery Solutions is a highly sought-after surgeon for bariatric surgery in Los Angeles. As one of the country's leading board-certified bariatric surgeons, Dr. Feiz excels at understanding the sensitive issues surrounding excess weight and helps his clients with the best surgery/treatment outcomes.
Am I a candidate for a weight loss surgery?
You may be a candidate if you're overweight and wish to make a lifestyle change. Research proves that weight loss surgery can significantly improve individuals' health and reduce their risk for a variety of diseases and illnesses. Patients with a BMI ranging between 35 and 39.9, and suffering from type 2 diabetes, osteoarthritis, high blood pressure, and other obesity-related conditions can lead a healthier life with bariatric surgery.
You may be a candidate for a weight loss surgery if you are over 100 lbs or have a BMI of over 35. Also, if you are suffering from severe negative health effects because of overweight, you need bariatric surgery to reduce your risk for cardiovascular diseases, diabetes, and other life-threatening conditions. Individuals that are unable to achieve a healthy BMI or bodyweight with a medically-supervised diet and regular exercise may also benefit from weight-loss surgeries.
What to expect during bariatric surgery?
Bariatric surgery is a form of weight loss intervention done in a hospital using general anesthesia. You will remain unconscious during the procedure, and the specifics of your surgery can vary from one individual to another based on the type of surgery, the hospital, and the doctor's experience. In some weight-loss surgeries, your doctor may make a large incision in the abdomen, while in a few others, your doctor may use a laparoscope for the operation.
Dr. Michael Feiz is a highly skilled surgeon at performing laparoscopic bariatric surgery in Los Angeles. In a laparoscope procedure, your doctor will make a small incision on your abdomen and insert a minute tubular instrument with a camera into the incision. Laparoscopic surgeries are widely popular due to the faster and shorter recovery phase. Bariatric surgery can go on several hours, and you may need to stay at the hospital for a few days following the surgery.
Health risks linked to obesity
Obesity occurs when your BMI is 35 or higher. This means you are highly likely to suffer from conditions like heart disease, stroke, high blood pressure, diabetes, and certain types of cancer, gallbladder disease, gallstones, and breathing problems. Some patients also suffer from conditions like osteoarthritis and gout due to excessive weight, which can severely affect their performance in day to day living.
If weight loss seems impossible with a medically-supervised diet and regular exercise, it is critical to meet with a bariatric surgeon to discuss your options. Call Weight Loss Surgery Solutions to schedule an appointment with Dr. Michael Feiz and to find out if you qualify for bariatric surgery in Los Angeles. Dr. Feiz is one of the top surgeons in the country to offer weight loss surgeries with several years of experience.