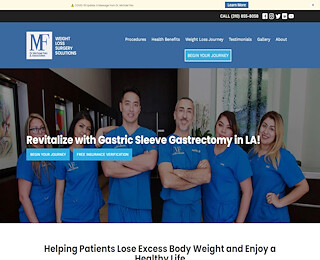 Dr. Michael Feiz at Weight Loss Surgery Solutions is one of the top practitioners of bariatric medicine in the United States. He and his team pioneers in offering improved weight loss surgeries and gastric sleeve in Los Angeles at affordable prices.
How dangerous is gastric sleeve surgery?
The procedure will decrease the size of the stomach and promote weight loss. In this procedure, your doctor will remove more than 80% of the stomach permanently, leaving only the tube-like portion in place. This dramatic decrease in the size of the stomach, and thereby significantly restricts the volume of food that you can eat at a time.
Patients who undergo this procedure should follow strict discharge instructions, food intake rules, and follow the diet plan prescribed by your surgeon to avoid potential risks. Gastric sleeve is a safe procedure when compared to other surgeries, and there are sporadic cases of acute or chronic complications in operated patients. Make sure to get your procedure from an expert surgeon that performs gastric sleeve in Los Angeles to minimize complications and to attain the best weight loss results from the surgery.
Who should consider bariatric surgery?
Obesity is a harmful health condition and can lead to a variety of other illnesses, diseases, and complications. In America, about 300,000 people die every year due to health conditions that arise due to obesity. Obesity can increase your risk for life-threatening diseases and conditions like diabetes, high blood pressure, heart disease, obstructive sleep apnea, stroke, and cancer.  
Individuals suffering from obesity can reduce their risk for these conditions with weight-loss surgeries. Women battling with infertility due to obesity can consider this surgery to improve their chances of conception. Also, to be eligible for bariatric surgery, you must be over 16 years and less than 70 years of age. Furthermore, your BMI should be 35 or above, and you must have certain pre-existing co-morbidities to be considered eligible for the surgery.
Recovery from gastric bypass surgery
Most bariatric surgeries these days are done laparoscopically, this means short recovery time. You may need to remain in the facility for up to 3 days and must wait for at least 3-4 weeks before you can return to normal activities. If the surgery involves a large incision in your abdomen, the healing process can take longer than five weeks. 
Initially, you will not be allowed to eat after a weight-loss surgery for one to two days. This is to allow time for your stomach and digestive tract to heal, after which your doctor will prescribe you a specific diet for a few weeks. The diet initially begins with taking only liquids, followed by pureed foods, and finally, regular foods. You also must strictly stick to the restrictions and dietary limits on how much you can eat and drink.
Dr. Michael is among the few surgeons in the United States to offer telescopic sleeve gastrectomy. To schedule a consultation with Dr. Michael Feiz for gastric sleeve in Los Angeles, call Weight Loss Surgery Solutions at (310) 855-8058.