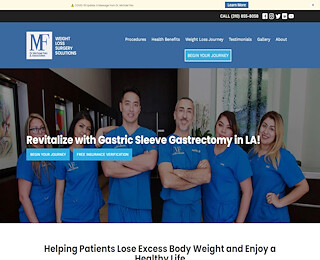 Obesity is associated with several health risks, and it is known to kill. Since it is a growing concern, medical experts are ceaselessly looking for a solution that works best for everyone. If all the weight-loss solutions you have implemented are not effective, lap band surgery is one of the top surgical treatments for obesity. Here's the information that you need to know about the lap band and decide if it is right for you.
What do you know about Lap Band?
This is a surgery that reduces the amount of food the stomach can hold by placing an inflatable, small band around the upper part of the stomach. This band limits the amount of food you can consume and control the digestion process by creating 2 pouches. The food is initially held in the upper pouch, while the lower, bigger pouch is where the food is processed. 
Lap band surgery doesn't require cutting the stomach but does need postoperative regime restrictions and follow-up visits. It is important to have consistent visits with your healthcare provider after surgery for your weight loss success. 
Who are suitable candidates for this procedure?
The surgery can be performed on an individual with a Body Mass Index (BMI) of 40 kg/m2 if they have health conditions that are weight-related such as diabetes or high blood pressure. Like we discussed earlier, it is important to note that lap band surgery is just a part of the entire process, you must be willing to follow the lifestyle changes that are required for a successful transformation.
How Long Does It Last?
Many people choose this lap band because it is usually a quicker and easier procedure. This process takes just a few hours to complete, and several people like that they can be reversed. If you are performing this surgery, the aim is to keep the band around your stomach for a long time. The band is made of silicon, which will be a part of your body for as long as you want or for forever. Silicon doesn't fail over time, so it can outlive you.
Lap Band vs. Gastric Sleeve
These are two surgical options available as a solution to improve the health of patients who are seriously obese. However, gastric sleeve and lap band go about this procedure in a very different way. Lab band is a device that is used around the stomach, which doesn't require any stapling or cutting of the stomach.
The gastric sleeve, on the other hand, involves the actual removal of a huge part of the stomach by the surgeon. The rest of the patient's stomach is in the shape of a sleeve. Because this surgical procedure involves suturing and cutting the stomach, it takes a longer time for patients to recovery. One more thing when considering lap band vs. gastric sleeve is that gastric sleeve is not reversible, because about 80% of the stomach will be removed. 
Learn More About Lap Band 
Dr. Feiz & Associates has worked with tons of patients and performs several gastric sleeve and lap band surgeries. If you are ready to change your life, contact us today to find out more or schedule a free consultation.