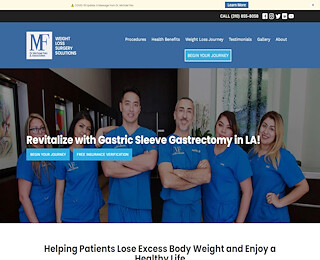 At Weight Loss Surgery Solutions, Dr. Michael Feiz and his team offer a variety of weight loss procedures at affordable prices. We help patients suffering from obesity and overweight issues with weight loss surgery in Los Angeles. 
Will health insurance pay for bariatric surgery?
On average, bariatric surgery can cost anywhere between $15,000 and $30,000. Several studies prove that surgery for morbid obesity is cheaper than the cost of treating conditions that arise out of obesity. However, insurers, in general, deny coverage for about 25% of patients considering bariatric surgery at least thrice before they approve.
Sometimes, even with your doctor's recommendation, it can be hard to get your health insurance to pay for your weight loss procedure. Contact your insurance carrier to learn if whether your plan covers elective bariatric surgery.
Types of bariatric surgery
There is a multitude of weight-loss surgeries available, and your doctor is the best person to help you choose the surgery that's best for you. Here are some of the weight loss surgery options:
Gastric bypass surgery - Also known as roux-en-Y gastric bypass surgery, it shrinks your stomach and minimizes the amount of fat that your body can absorb. This surgery is more powerful than the sleeve gastrectomy procedure and helps patients lose up to 20 pounds more. By rerouting the GI tract, patients experience significant improvement in diabetes, and it offers permanent relief for individuals suffering from acid reflux.
Cirugía de gastrectomía de manga - Surgeons remove close to 80% of the stomach leaving only a small "sleeve" in its place. This surgery is for those who have had multiple abdominal surgeries before. Patients with a bodyweight of over 400 pounds are the candidates for this surgery.
Duodenal switch - During this procedure, bariatric surgeons remove part of the stomach and create a sleeve. It offers greater metabolic effects and better weight loss results. This is a route rarely taken in bariatric surgeries, and only a highly experienced surgeon for weight loss surgery in Los Angeles can perform this procedure. It is for patients with severe obesity, metabolic disease, uncontrollable diabetes, etc.
Gastric Bypass Procedure vs. Gastric Sleeve Procedure
Gastric bypass and gastric sleeve are two very similar surgeries, and in both cases, patients do not stay for more than 2-3 days in the hospital. With both the procedures, patients are no longer allowed to eat to their stomach's full capacity. While gastric bypass patients lose 70 - 80% of excess body weight in a year after their surgery, gastric sleeve patients lose 60-70% of their body weight in the same duration. Gastric bypass is for very obese patients who have a BMI over 45.
Get in touch with one of us today at (310) 855-8058 to schedule a consultation with Dr. Feiz at Weight Loss Surgery Solutions. He is one of the highly sought-after doctors for weight loss surgery in Los Angeles, and he excels at performing procedures like Sleeve Gastrectomy, Needlescopic Sleeve Gastrectomy, Lap Band Conversion to Sleeve, Gastric Bypass, and a variety of other procedures.