Here at Dr. Feiz & Associates, our team of medical experts offers sleeve gastrectomy, a proven surgical technique for patients who suffer from obesity, but have experienced little to no success with exercise and dieting. Sleeve gastrectomy, also known as vertical sleeve gastrectomy or a gastric sleeve operation, involves removing 75-85% of the stomach, and then reshaping the remaining portion into a sleeve-like structure. The reduced stomach effectively restricts the flow of food particles to the intestines, leading the patient to experience a faster-acting and longer-lasting sensation of satiety. As a result, the patient eats less in each sitting.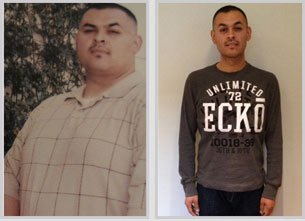 Roger Rosales received sleeve gastrectomy surgery from Dr. Feiz in 2011 and has lost over 150 Lbs
Dr. Michael Feiz, M.D., F.A.C.S. is one of the few bariatric surgeons in the United States who is qualified to perform needlescopic sleeve gastrectomy. This accomplishes the surgery with even smaller incisions. With the method employed by Dr. Feiz, patients enjoy a faster recovery period marked by significantly less discomfort and virtually no residual scarring.
Check out the Weight Loss Journey of one of our wonderful patients
Recent studies published in the New England Journal of Medicine show that sleeve gastrectomy can dramatically improve the symptoms of Type 2 diabetes. In many cases, patients experience complete remission, and are able to completely stop taking their medication. This procedure can also have a substantial impact on hypertension and other co-morbidities.
An accomplished bariatric surgeon will undoubtedly have a gastric sleeve before and after gallery to demonstrate the quality of his work. Even a cursory examination of Dr. Feiz's photos and videos of past patients will give you a good sense of his consistent track record of success with this surgical procedure. Contact us today to schedule a FREE initial consultation.
Sleeve Gastrectomy Southern California

Sleeve gastrectomy is a less-invasive alternative to traditional gastric bypass surgery, and is a popular choice for patients who visit our Southern California practice.  Unlike with full gastric bypass surgery, our Southern California patients who undergo sleeve gastrectomy do not completely bypass the stomach. Sleeve gastrectomy leaves a much larger space for food within the stomach that enables Southern California individuals who undergo the procedure to eat more food. The sleeve gastrectomy promotes weight loss both by limiting the size of the stomach (thus making the patient feel full sooner) and by slowing the digestion of the food from the stomach into the intestines. Since sleeve gastrectomy slows the food's passage into the intestine, our Southern California patients report that they feel much more full for longer periods of time and are not immediately hungry following a meal.
Dr. Michael Feiz, M.D., FACS, as a leading bariatric surgeon in Southern California, his expertise is unparalleled and our patients rave about his caring bedside manner and their wonderful results after undergoing sleeve gastrectomy surgery. Since sleeve gastrectomy is not as invasive as traditional bypass surgery, patients typically heal faster and have less scarring while still enjoying the same weight loss and health benefits. Our Southern California patients enjoy high resolution rates for type 2 diabetes, high blood pressure, high cholesterol and obstructive sleep apnea after their sleeve gastrectomy, resulting in a healthier, higher quality of life along with a slimmer waistline.
Sleeve gastrectomy surgery involves removing approximately 75-85% of the stomach and reforming the part that remains into a banana-shaped, sleeve-like structure. This new shape allows for better regulation of food intake. A patient who has undergone sleeve gastrectomy surgery will feel satiated faster, and for longer periods of time, enabling them to eat less often and eat less during each sitting. The patient enjoys immediate weight loss, and if they adhere to the new diet and lifestyle required for long-term success, sleeve gastrectomy surgery can be an amazing solution to morbid obesity.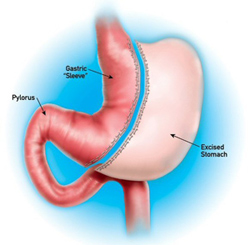 Here at Dr. Feiz & Associates, our team of highly trained and knowledgeable medical professionals brings to bear considerable experience performing sleeve gastrectomy surgery. Our lead physician, Dr. Michael Feiz, M.D., FACS, is an accomplished bariatric surgeon who has had tremendous success treating many patients with sleeve gastrectomy surgery. That said, sleeve gastrectomy surgery is not the right choice for everyone, and our experts will consult with you closely on the benefits and risks of all possible approaches to weight loss before determining the best course of action for you.
To learn more about sleeve gastrectomy surgery and other weight loss options, we encourage you to schedule a FREE consultation or attend one of our FREE informational seminars.
Sleeve Gastrectomy Surgery
As bariatric medicine continues to progress, sleeve gastrectomy surgery is emerging as the gold standard treatment for patients with severe obesity, though past treatments have produced outstanding, even lifesaving, results for countless people. The older gastric bypass literally bypasses much of the digestive tract, while banding procedures such as the Lap Band simply tie off most of the stomach. Sleeve gastrectomy, however, removes 75-85% of the stomach, and then reshapes the remaining portion into a sleeve-like structure. As with the band, the smaller amount of space in the stomach makes overeating very uncomfortable. However, removing most of the stomach permanently has some additional benefits that most people still don't know about. Dr. Michael Feiz, M.D., F.A.C.S. has been at the forefront of spreading awareness in the medical community about the less obvious impacts of a sleeve procedure.
Needlescopic Sleeve Gastrectomy- That's the Dr. Feiz Difference
Dr. Feiz has been a leader in the use of the sleeve gastrectomy and the awareness of why it's the most effective method for most patients, but he's also been far ahead of the pack in terms in how the procedure is actually performed. Dr. Feiz has been working tirelessly to make an already very safe and minimally invasive laparoscopic procedure even more so.
As the name implies, needlescopic procedures from Dr. Feiz employ extremely small incisions. A typical weight loss surgery incision can be as large as ten millimeters. A needlescopic incision is just three millimeters. The result is that patients are left with four tiny scars that are the size of freckles. Particularly for patients who want to reduce the impact of the surgery on body tissue and speed post-surgical recovery, the needlescopic approach can feel like a lifesaver.
Naturally, these procedures are extremely delicate and they require a truly deft and experienced hand. A board-certified bariatric surgeon who has been at the vanguard of the field for decades,Dr. Feiz has performed weight loss procedures for literally thousands of patients with consistently good results. To find out more about sleeve gastrectomies, contact Dr. Feiz today at the phone number above. You can also reach out through his contact page.
@import url(https://fonts.googleapis.com/css?family=Open+Sans); #wonderplugincarousel-1 .amazingcarousel-image { position: relative; padding: 4px; } #wonderplugincarousel-1 .amazingcarousel-image img { display: block; width: 100%; max-width: 100%; border: 0; margin: 0; padding: 0; -moz-border-radius: 0px; -webkit-border-radius: 0px; border-radius: 0px; -moz-box-shadow: 0 1px 4px rgba(0, 0, 0, 0.2); -webkit-box-shadow: 0 1px 4px rgba(0, 0, 0, 0.2); box-shadow: 0 1px 4px rgba(0, 0, 0, 0.2); } #wonderplugincarousel-1 .amazingcarousel-title { position:relative; font:14px "Open Sans", sans-serif; color:#333333; margin:6px; text-align:center; text-shadow:0px 1px 1px #fff; } #wonderplugincarousel-1 .amazingcarousel-list-container { padding: 16px 0; } #wonderplugincarousel-1 .amazingcarousel-item-container { text-align: center; padding: 4px; background-color: #fff; border: 1px solid #ddd; -moz-box-shadow: 0px 0px 5px 1px rgba(96, 96, 96, 0.1); -webkit-box-shadow: 0px 0px 5px 1px rgba(96, 96, 96, 0.1); box-shadow: 0px 0px 5px 1px rgba(96, 96, 96, 0.1); } #wonderplugincarousel-1 .amazingcarousel-prev { left: 0%; top: 50%; margin-left: -48px; margin-top: -16px; } #wonderplugincarousel-1 .amazingcarousel-next { right: 0%; top: 50%; margin-right: -48px; margin-top: -16px; } #wonderplugincarousel-1 .amazingcarousel-nav { position: absolute; width: 100%; top: 100%; } #wonderplugincarousel-1 .amazingcarousel-bullet-wrapper { margin: 4px auto; } .amazingcarousel-socialmedia-button { display: inline-block; margin: 4px; } .amazingcarousel-socialmedia-button a { box-shadow: none; } .amazingcarousel-socialmedia-icon { display:table-cell; width:32px; height:32px; font-size:18px; border-radius:50%; color:#fff; vertical-align:middle; text-align:center; cursor:pointer; padding:0; } .amazingcarousel-socialmedia-rotate { transition: transform .4s ease-in; } .amazingcarousel-socialmedia-rotate:hover { transform: rotate(360deg); }