Sleeve Gastrectomy Southern California

Sleeve gastrectomy is a less-invasive alternative to traditional gastric bypass surgery, and is a popular choice for patients who visit our Southern California practice.  Unlike with full gastric bypass surgery, our Southern California patients who undergo sleeve gastrectomy do not completely bypass the stomach. Sleeve gastrectomy leaves a much larger space for food within the stomach that enables Southern California individuals who undergo the procedure to eat more food. The sleeve gastrectomy promotes weight loss both by limiting the size of the stomach (thus making the patient feel full sooner) and by slowing the digestion of the food from the stomach into the intestines. Since sleeve gastrectomy slows the food's passage into the intestine, our Southern California patients report that they feel much more full for longer periods of time and are not immediately hungry following a meal.
Dr. Michael Feiz, M.D., FACS, as a leading bariatric surgeon in Southern California, his expertise is unparalleled and our patients rave about his caring bedside manner and their wonderful results after undergoing sleeve gastrectomy surgery. Since sleeve gastrectomy is not as invasive as traditional bypass surgery, patients typically heal faster and have less scarring while still enjoying the same weight loss and health benefits. Our Southern California patients enjoy high resolution rates for type 2 diabetes, high blood pressure, high cholesterol and obstructive sleep apnea after their sleeve gastrectomy, resulting in a healthier, higher quality of life along with a slimmer waistline.
Sleeve gastrectomy surgery involves removing approximately 75-85% of the stomach and reforming the part that remains into a banana-shaped, sleeve-like structure. This new shape allows for better regulation of food intake. A patient who has undergone sleeve gastrectomy surgery will feel satiated faster, and for longer periods of time, enabling them to eat less often and eat less during each sitting. The patient enjoys immediate weight loss, and if they adhere to the new diet and lifestyle required for long-term success, sleeve gastrectomy surgery can be an amazing solution to morbid obesity.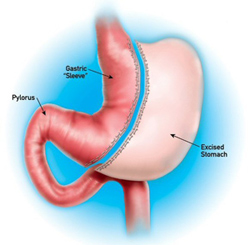 Here at Dr. Feiz & Associates, our team of highly trained and knowledgeable medical professionals brings to bear considerable experience performing 
sleeve gastrectomy surgery
. Our lead physician, Dr. Michael Feiz, M.D., FACS, is an accomplished bariatric surgeon who has had tremendous success treating many patients with sleeve gastrectomy surgery. That said, sleeve gastrectomy surgery is not the right choice for everyone, and our experts will consult with you closely on the benefits and risks of all possible approaches to weight loss before determining the best course of action for you.
To learn more about sleeve gastrectomy surgery and other weight loss options, we encourage you to schedule a FREE consultation or attend one of our FREE informational seminars. 
Sleeve Gastrectomy Surgery